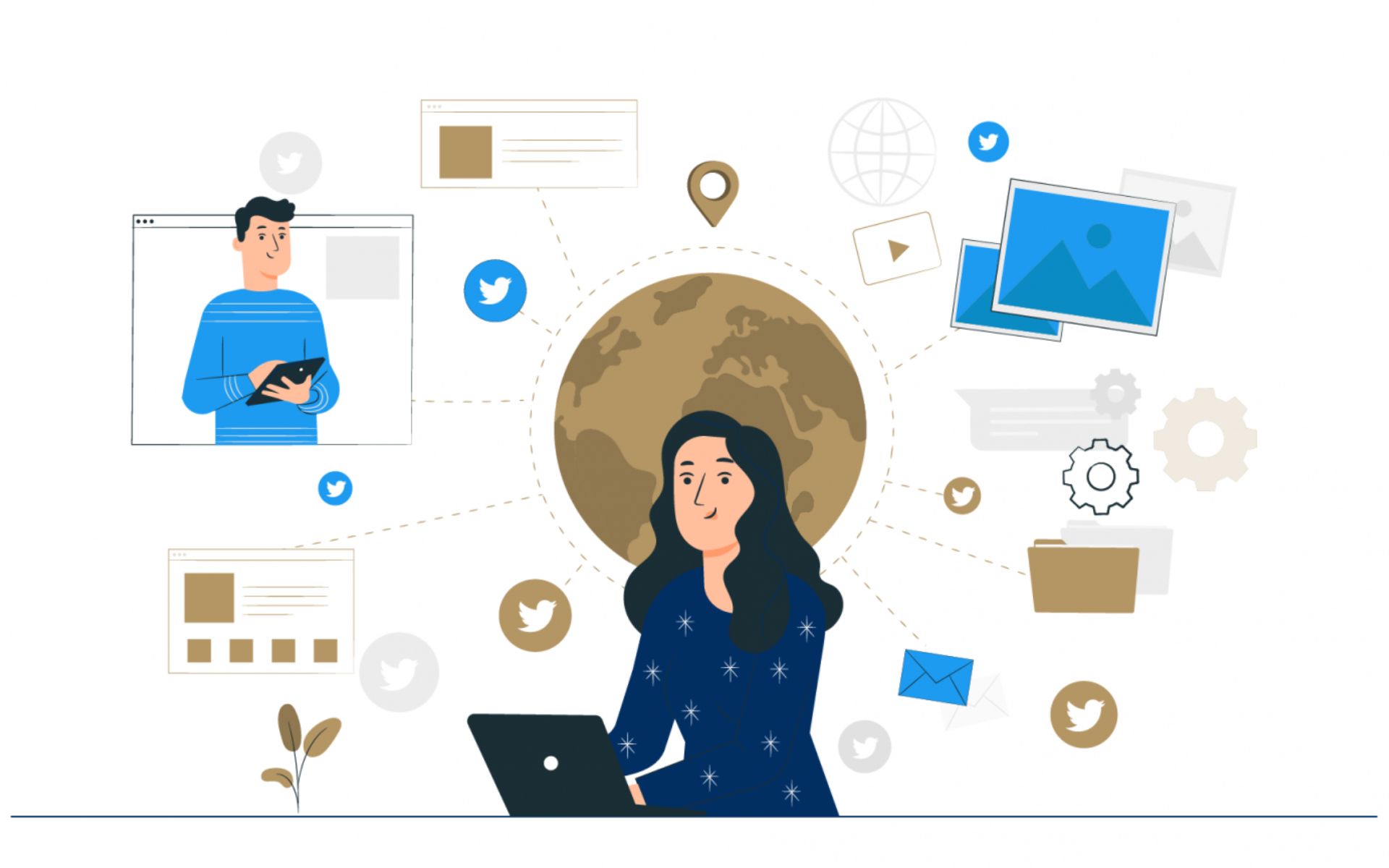 Through the strategic use of social media platforms and appropriate content marketing, a brand can reach its target audience and create a space in the minds of its followers. If we take Twitter into account, there are ample possibilities for an SME to explore this platform with 199 million mDAU.
As per a survey by Bufferapp, 70% of small businesses are on Twitter. While the number is remarkable, the percentage of SMEs using it effectively is significantly low. As a result, the return on investment becomes negligible and digital presence gets lost in oblivion. Since its inception in 2006, Twitter has evolved from being just a conversation-led platform to a marketplace to showcase products, ignite engagement and build a presence. It will not be wrong to say that Twitter has provided businesses with multiple opportunities to find and convert prospects if utilized strategically. If you think the platform is simply about scheduling tweets and using relevant hashtags, well, it's time you reconsider and look beyond the surface and dig deep into the gold mine that Twitter is.
Consistency and awareness
Building a presence on Twitter requires a well-planned strategy, consistency, and competitive study to make a mark. When you fulfil these parameters, backed by unique content, you'll observe fruitful results in terms of enhanced engagement, a spike in the number of followers, and an increase in mentions about your brand. The higher the engagement, the chances of them getting converted to leads naturally become higher too.
Keep your followers' attention intact with fun facts, real-time information, and local flavor. Ridlr Mumbai (@RidlrMUM), an Indian public transport app founded in 2012, has one of the highest following on Twitter in India. The reason? They are consistently posting and updating their customers about transportation, timing and schedule, and real-time changes. On top of that, they do it in a peculiar and gripping manner. Twitter offers a host of solutions and best practices one can take to ensure the perfect marketing approach for their SMB Business.
Give a personalized touch
Another piece of advice for your Twitter strategy would be to stand out from your competitors by giving a personalized touch to the piece of content you are putting across. If it's unique, relatable, and interesting, it'll surely kindle conversations, and your brand will find itself gaining followers organically. IdeaPaint(@IdeaPaint), a brand that sells paint products that turn walls into dry-erase products, is a dream product for artists and parents who can use the wall to their advantage without a shadow of worry. They utilized the power of Twitter by leveraging the scope of creativity and collaborating with streams that talk of creativity. Indeed a classic example of engaging with the audience in a personalized way without overselling the product.
Pay attention to your customers
Responding to their questions, compliments, and concerns should be on top of your strategy.
This builds reliability for the brand and makes you a brand that prioritizes the needs of the customers. As per a survey by MediaBistro, 67% of Twitter users are more likely to buy products from a brand that has a good presence on the platform and they follow on Twitter. Your content should resonate with your target audience, and if you can achieve that, you are utilizing the power of Twitter well. Kogi Korean BBQ (@kogibbq), a popular L.A. moving food truck, realized the need to constantly inform the customers of their latest location, menu, pictures, schedule, and bam! Twitter proved to be the 'it' thing that garnered immense popularity and became a hit. A simple idea executed perfectly.
Evaluate your competition
Keep a keen eye on what your competitors are doing. While you don't have to copy their strategy, you can always know about the industry better and topics that initiate discussion give you an edge over the others. With a following of 1,2 million followers, Airtel India (@airtelindia) enjoys a following much higher than its counterparts. The credit goes to the engaging video content that they Tweet, along with contests and offers to keep their followers engaged. In order to know what are the best practices for video content tips, refer to this interesting blogpost by Twitter.
Share all media mentions
If your small business often receives media mentions, you should share them on Twitter. Doing this will surely help make your business look more genuine and enhance the chances of profile visitors in converting into loyal followers. Kerala Tourism page on Twitter (@KeralaTourism) enjoys a massive following of nearly 2 million. One of the biggest reasons being they Tweet, Retweet, comment, and share posts and pictures that tag them and wonderfully showcase Kerala tourism and appeals to travel enthusiasts. Through specific hashtags used consistently, they have also aced the game of discoverability.
Increase traffic with paid ads
Exploring possibilities and achieving your benchmark organically is a great way to engage on Twitter. For an SMB to sustain and grow manifold, investing in paid ads becomes a necessity. To reach your target audience quickly and easily, paid ads enhance profile visibility by 63%.
Connect with the influencers
Want your brand to grow quickly? Follow influencers that have a massive following and get them to talk about your brand. It isn't as easy as it sounds. You have to prepare yourself to approach the influencer and add value to their portfolio. If you can get influencers to talk about your brand on Twitter, it is one of the most successful ways to create a buzz and gather attention.
If you are an SME, you need to be on Twitter, and what's better than starting now. Remember, consistency, and relevant content marketing strategy can do unimaginable wonders for your brand. 
Start Tweeting!
Other thought leadership
All thought leadership