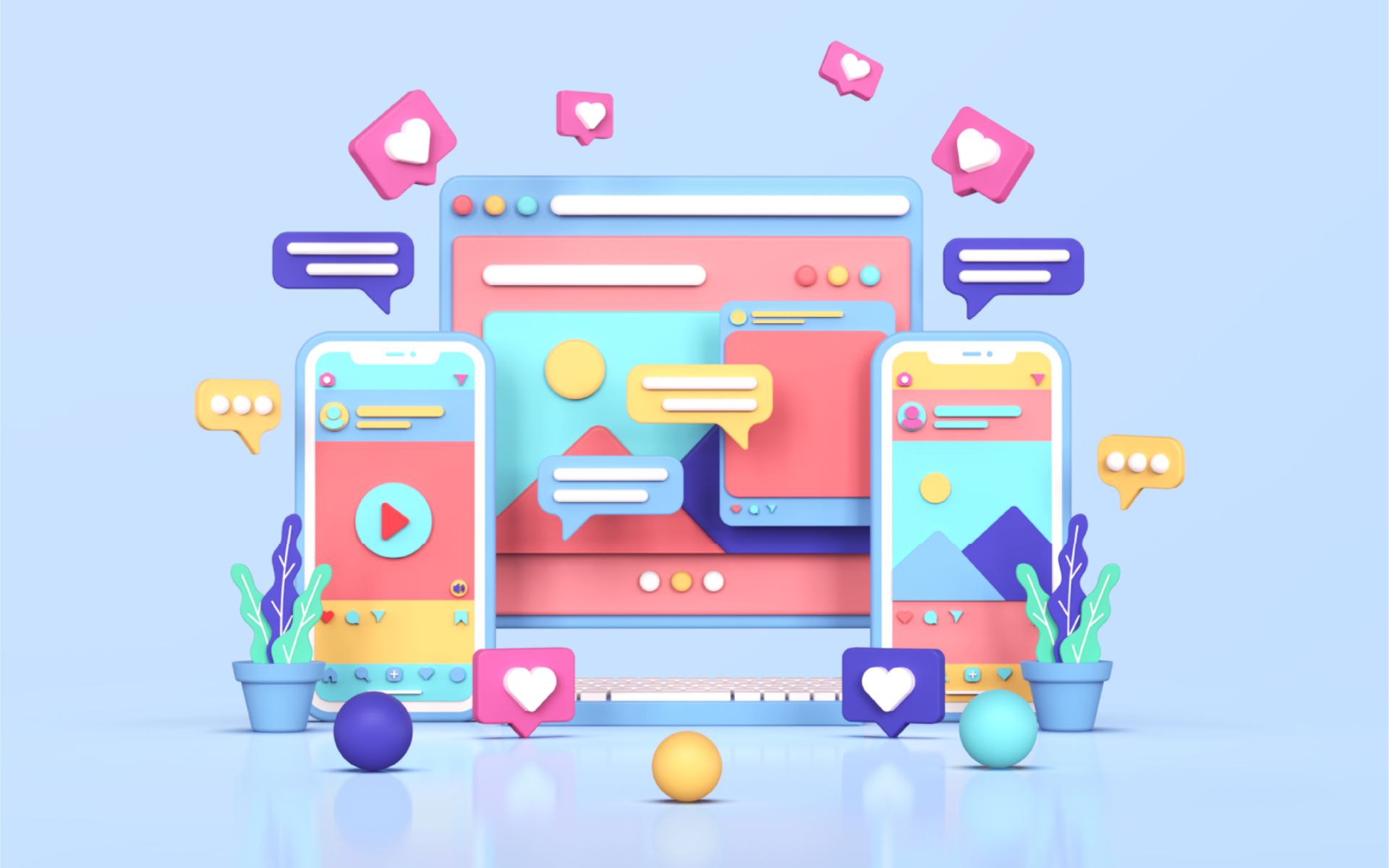 We like to think of marketing as fluid, able to change, and adapt to the times. This is an incredibly important factor to consider for startups, the significance of staying up to date and connected to ever changing expectations and interests of society, is second to none. The allure of your audience is of top priority to all new and current businesses.
With that said, in recent years e-commerce has rapidly gained the attention of the public, with the masses now shopping online, and demonstrating interests in their own virtual enterprises. Henceforth, the market is experiencing a significant drive in tech trends. Leading social media companies have adapted their business plan to match this new course, with Meta's announcement of the Metaverse and introduction of Facebook Shops, set to improve small business operations. Twitter is also heavily investing in spaces where marketers and users can share content, discuss current affairs, and organise conferences. Recently audiences have not only been exposed to the highly anticipated virtual reality trends, but also an introduction to the crypto movement, which we suspect will become an increasingly popular topic throughout the year.
Furthermore, following ongoing technological developments, marketers and start-up businesses are beginning to realise that by diversifying social media channels in their advertising campaigns, can significantly increase audience reach. Employment of social media platforms with the focus of improving the brand's marketing results has proven to be both effective and efficient. Facebook is amazing for e-commerce purposes and Instagram offers unprecedented opportunities to showcase products, but younger audiences are more sympathetic to TikTok. All social media channels offer unique and specific characteristics that suit individual needs. We understand that this is a fairly new trend in marketing the marketing ecosystem, as usually brands would focus their attention on maximising the utilisation of one social media channel, however using many for each objective is now a promising strategy.
As mentioned Meta's announcement of the Metaverse was a huge development last year, which left the eyes of the world searching for more. The implantation of the Metaverse and of virtual reality into marketing is an exciting new prospect for all. Massive sandboxes offer users the possibility to create innovative projects. From an advertising perspective, this is an unprecedented opportunity to reach audiences experimentally. Many tech companies have begun to realise the potential of virtual reality – Atari, Nvidia, Microsoft and Roblox are some of many that have already invested in Metaverse.
Now more than ever, companies are competing to develop innovative technologies, aimed at capturing people's attentiveness, and increasing cash flow. Marketers can benefit from the existence of these special projects tremendously, and the use of newer and more creative approaches can improve start-up functionality.
Social Media E-Commerce is on the up!
Online shopping and conducting business via digital channels are becoming an immersive part of entrepreneurship culture. Consumers are progressively shifting towards e-commerce and brands are picking up on this trend. Even tech companies responsible for developing social media platforms are adapting their modules to the growing presence of e-commerce.
Facebook is supportive of small businesses, with their new feature entrepreneurs can create virtual versions of their shops. Customers can see, learn, and even message clerks to get more information about products – just like in real life but from the comfort of your home. The digitalization of our lives is changing the way consumers shop, interact, and perceive the market. Building a strong online presence is arguably the most influential trend at present.
If that isn't enough to convince you, the e-commerce trend is also proving to be extremely influential in marketing campaigns. With the availability of customer insights, business owners can measure traffic, conversion rates, and the popularity of their product more accurately than ever before. The potential of digital shops is unparalleled, start-ups are heavily investing their capital into the development of innovative channels aimed at alluring consumers, and breaking through the enormous competition. Undoubtedly, the potential revenue of e-commerce is enormous – in 2021 the online business collectively raised $4.9 billion in the US, the forecast predicts an increase of 12% in the next year, and steady growth for years to come. Small and start-up businesses adore e-commerce because it has proven to be the most effective and cost-efficient. The revenue predictions support the argument that consumers' interest in shopping online is escalating.
The convenience of digital operations positively influences both customers and entrepreneurs. Clients can shop remotely from their households and business owners can benefit from automated billing, accurate data, and most importantly lower costs in comparison to physical stores. The world of digital business is growing rapidly, will it eventually take over in person shopping? Time will tell, but it doesn't hurt to be prepared!
The Promised Land of Metaverse
Metaverse is a digital world where users can travel, socialise, buy land and even build real estate. An immensely exciting technology that brings many innovative benefits to social, business, and entertainment sectors. Brands can express their creativity in the boundaryless virtual world. Customers from all over the world can attend promotional events, concerts or even exhibitions. The convenience and reduction of labour costs of virtual reality employment will shape the future of marketing and business. Additionally, the Metaverse offers possibilities for trying new thrilling activities, users can do as much as in real-life without potential threats of injury, and those that may be confined by a disability, will now be free to take part in any activity in the virtual world.
Last year the Metaverse experienced enormous attention from the media. Many brands are seeing the potential of the virtual world and have already decided to journey into the Metaverse. Marketing in Meta's digital world is crucial for reaching Gen Z and younger audiences – after all, they are the main target audience for the Metaverse. According to financial data, these generations have buying power equal to $141 billion in the US alone, and researchers predict that they will overtake millennials and baby boomers within this decade. Thus it is clear that appealing to the power of Gen Z is becoming a necessity.
Interestingly, advertising in the digital world does not differ much from real-life marketing. Paralleling the same approaches is equally effective. Copy your commercial attempts into virtual reality – users will notice the authenticity of the brand's marketing, as well as appreciate the natural approach. Within the realm of virtual reality, brands have an opportunity to deliver an immersive experience to the audiences. Additionally, this approach to marketing campaigns can improve brand recognition and engagement.
Smart businesses use trends to their advantage and experiential marketing thrives in virtual reality. After all, the Metaverse is all about users' experience. For brands and start ups the possibilities to engage with audiences in the Metaverse are endless, from events, to competitions to win collectable NFT's. Creating memories about the brand strengthens the possibility of future recall and most importantly develops relationships with consumers. This approach builds customer loyalty, a fundamental ingredient for start-up businesses in the development phase. With all that being said, marketers should consider the lucrativeness of the digital world.
The Power of TikTok for Digital Marketing
In the last six years since the launch of TikTok, the platform has become a home for Gen Z audiences to express themselves. The social media app mostly known for its engaging employment of short videos features over a billion users, across 150 countries, and is available in 75 languages. TikTok ads use the most effective commercial format available, with full-screen videos that are no longer than 8-10 seconds. Young generations have short attention spans and are often more enticed by videography, TikTok did a remarkable job implementing these aspects into their platform.
The trend of TikTok was so influential that even their competition employed similar video features. Additionally, advertising on this engaging platform allows businesses to effectively collaborate with influencers. TikTok's celebrities have an enormous fan base that mostly represents audiences between 15 and 25. The brands can use influencers for commercial purposes, however, for small or start-up businesses that strategy might be too expensive. But don't give up hope, even if brands, small businesses, or startups lack followers, the algorithm will still connect content with the relevant audiences.
Creating any kind of content on TikTok whether it is commercial or entertainment is easily manageable. Brands can use the platform's creative partners such as Vimeo or Canva, and utilise hundreds of already prepared templates. This is a safe option for companies that have limited budgets, using proven approaches might not be innovative, but it is still effective.
Trending Conclusions
We live in a world in which technology now surrounds us, forever developing, and influencing the lives of the public tremendously. Whether it is raising interest in e-commerce, crypto investing, or building stock portfolios – people seem to be attracted to growth trends. Additionally, young audiences are showing unprecedented delight in virtual reality and the digitalization of day to day life.
Social media has always been an appreciable marketing channel, but with the creation of TikTok marketers can fully embrace advertising with the most effective approach of full-screen videos in one app! Reaching audiences is a difficult feat and on TikTok advertisers can gain millions of young consumers. Moreover, Meta has always been supportive of small businesses and start-ups, with features offering unprecedented opportunities for business owners. Definitely worth investigating, wouldn't you say?
Undoubtedly, the e-commerce trend is paving the way for future social media updates. Interestingly, start-ups realised that by employing multiple social media channels they can gain a significant advantage in the market. Meta's latest product allows them to implement this strategy accurately and in a manageable way. Connecting the most influential characteristics of different social media platforms is an effective trend amongst start-up businesses. The most important aspect to remember across the stream of trends, is that innovation, research, and updated consumer insights are most definitely your friend as we enter the era of marketing.
Other thought leadership
All thought leadership