Back
Shoppster Slovenia: Boosting ecommerce client's brand and performance with Meta Advantage+ catalog ads
Shoppster is a customer-centric ecommerce platform in Slovenia that provides a seamless online experience from discovery to delivery. The company offers over 200,000 products and more than 2,000 brands that consumers can explore on its website. By using the latest technology and logistics on every step of the shopping journey, Shoppster ensures a frictionless experience even during delivery with a unique tracking function.

+12.3
points lift in standard ad recall
+4.6
points lift in standard brand awareness
+1.2
points lift in affinity
The Objective
Shoppster wanted to explore ways to simultaneously build its brand and drive conversions on its ecommerce platform. In addition, the company aimed to integrate a personalized, customer-focused strategy to measure its effect on favorability.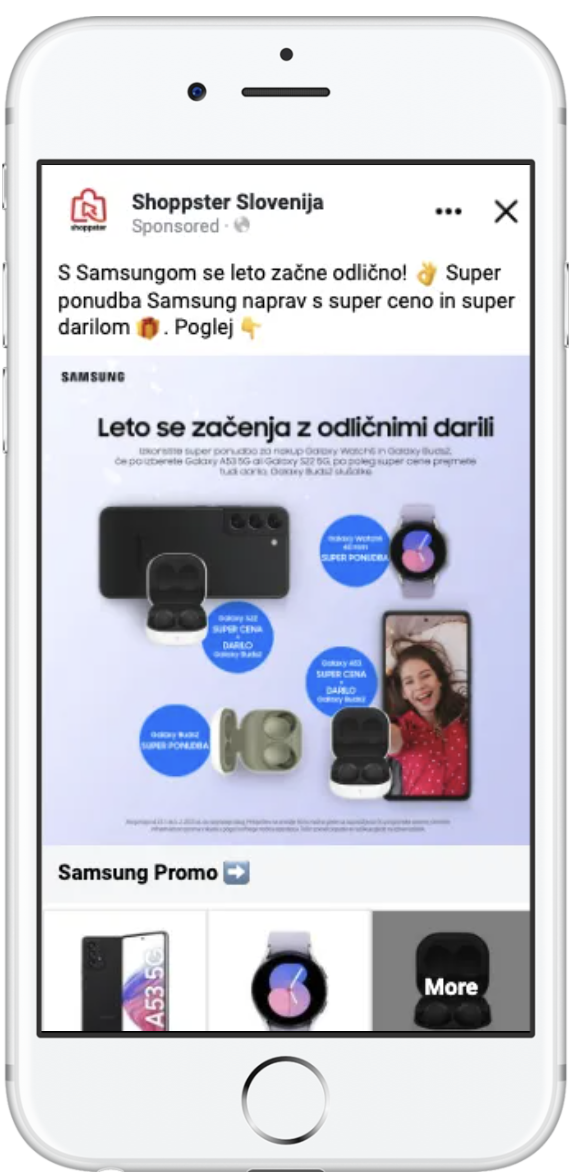 Unlocking performance branding
The Solution
To reach its goal of increasing brand and conversions in Slovenia, Shoppster partnered with Httpool, an Authorized Sales Partner that provides guidance on advertising best practices and Meta solutions to advertisers across Europe and Asia.
After assessing Shoppster's needs, the Httpool Slovenia team introduced performance branding as an option, a concept that incorporates brand best practices throughout measurable performance campaigns to maximize results. To activate this idea, Httpool recommended Meta Advantage+ Catalog Ads to showcase Shoppster's product range and used personalized retargeting to drive user affinity.
Httpool then set this Meta campaign up for success by ensuring the ecommerce leader adopted best practices. The team included product-focused short creative, targeted a broad audience and deployed at least twice per week.
A measurement brand lift study was conducted to measure true business outcomes and help the team continue to align campaigns with marketing goals. The study showed that this performance branding campaign delivered exceptional results in Slovenia, including high ad recall and brand awareness and an outstanding lift in favorability.
The Results
Httpool and Shoppster concluded that, when executed strategically, direct response campaigns on Meta platforms can drive both performance and brand outcomes. According to the brand lift study, these campaigns achieved the following results in Slovenia: +4.6 points in standard brand awareness, +12.3 points in standard ad recall and +1.2 points in affinity.
At Shoppster we strongly believe in the power of algorithms and smart dynamic concepts. Together with Meta we have proven that it's possible to be focused on sales and performance, and still be able to achieve significant brand building with an effective increase in return of ad spend.
Other success stories
All success stories