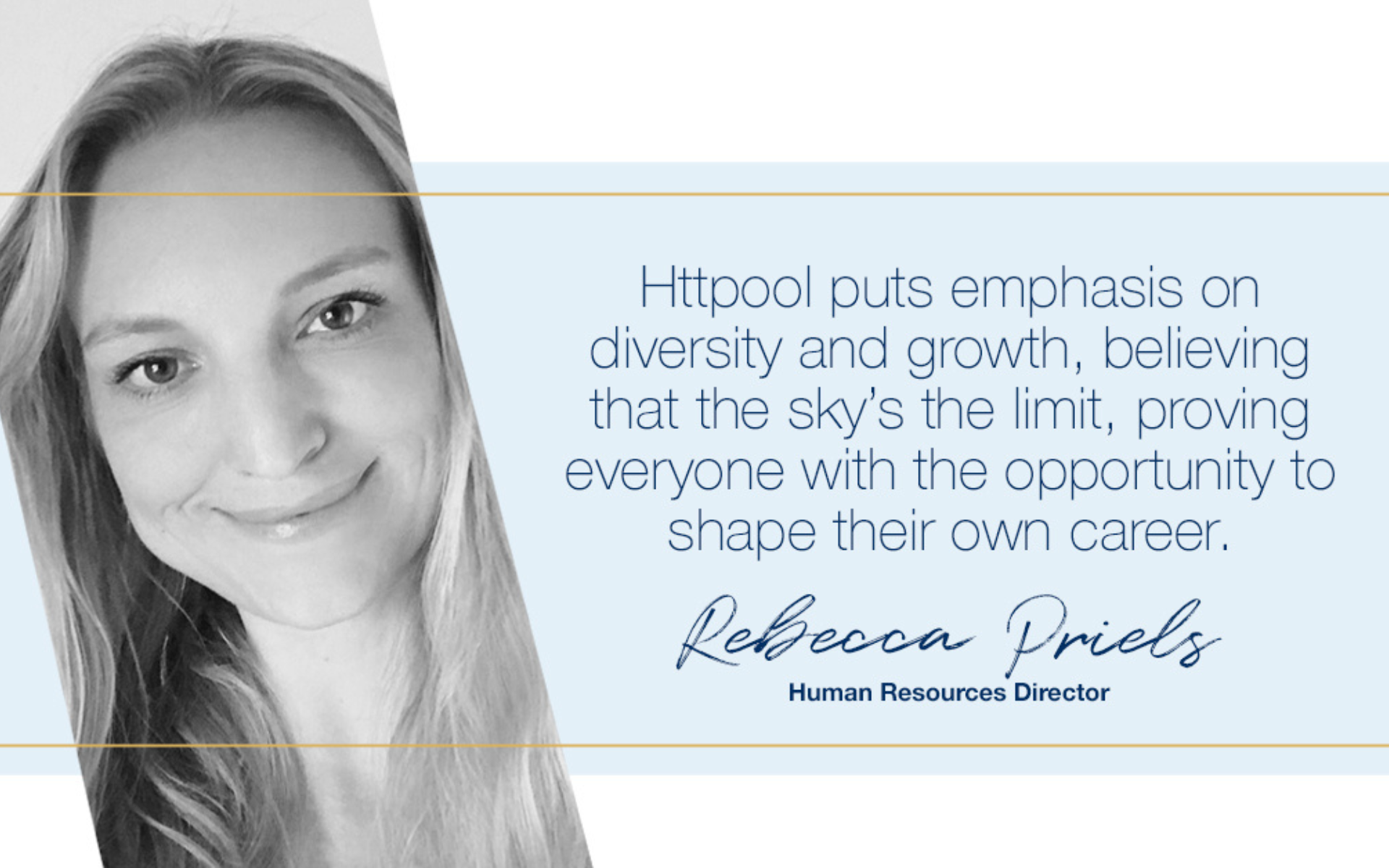 Think about what you are good at, what the world needs, what you can be paid for, and what you love (concept of 'ikigai')
Rebecca's Story
A strong believer in being present in the moment, be it one-on-one meetings or spending quality time with her children, Rebecca carefully organises her schedule, distributing her focus appropriately, and ensuring enough time is given to execute tasks to the highest level. "Combining our career and family schedules requires a strong support system. It takes a village to raise a family, so we shouldn't be afraid to ask for support. Having a supportive employer like Httpool can make a big difference too!"
Prioritization is Rebecca's key to success. "We have so many ideas floating around and need to choose wisely. When setting a priority project, I always ask myself: What will make the biggest impact and add the most value for our company?"
Having joined Httpool tasked with setting up the central HR function, Rebecca's team now includes top HR professionals that support Httpool employees across more than 30 markets. "Being transparent in communication and seeing my team as partners is important. I believe in our skilled staff and know that their own unique experiences can bring so much to the table, any leader should be proud to leverage this". explains Rebecca. "Httpool puts emphasis on diversity and growth, believing that the sky's the limit, proving everyone with the opportunity to shape their own career".
Maintaining strong communication and continuous education are key assets in Rebecca's vision of the future, driven by technology and artificial intelligence. "Many systems already utilise machine learning to make employee predictions. Whilst this is an interesting idea, I still believe in the necessity of HR professionals who are able to actually talk to employees,  understanding their feelings, and why they feel the way they do. After all, human talent is the only thing capable of linking innovation, competitiveness, and growth in the 21st century."
Rebecca feels that Httpool employees are undoubtedly a winning formula for the future. "I have never met so many diverse, talented, kind, and passionate people within a company prior to Httpool". Our employees are spread across 32 countries, all with their own unique cultural backgrounds, and languages, this is the driving force behind international operations. "I am proud that Httpool has a gender balanced team and we all pursue the same goals and are aligned in both our vision and mission, wherever we are in the world!".
Rebecca's advice for young girls choosing a career path:
Think about what you are good at, what the world needs, what you can be paid for, and what you love (concept of 'ikigai'). If you are still studying, I would highly encourage pursuing internships as early as possible. Once you have decided on your career, focus on it, be passionate, level up your skills and strive to become a better version of yourself every day.