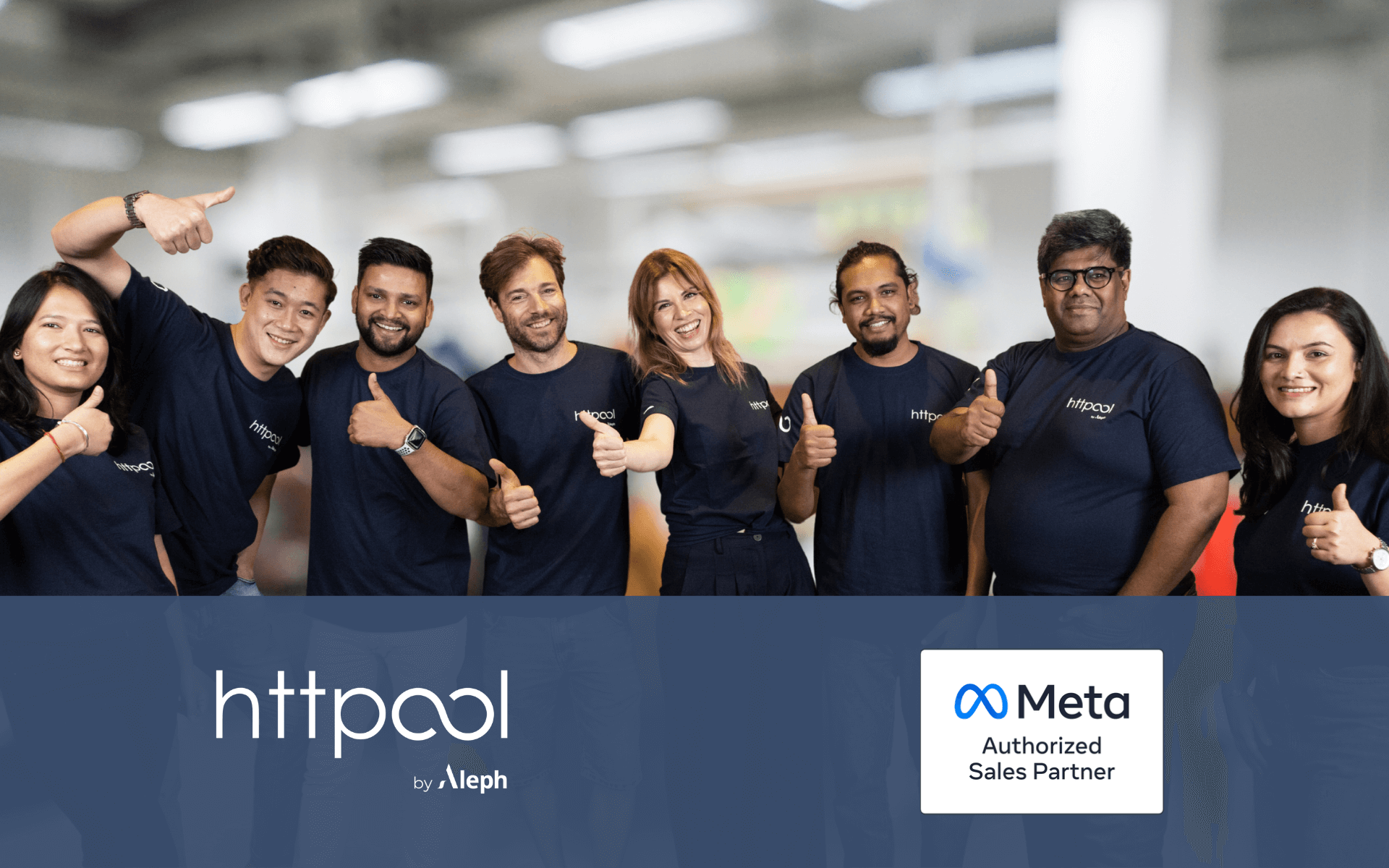 Kathmandu, December 26 2022, Meta has appointed Httpool by Aleph as an authorized sales partner in Nepal. This position enables Httpool by Aleph to support local advertisers and agencies to achieve their business goals by providing in-country assistance, strategic direction, and expertise across the family of Meta products.
Meta Authorized Sales Partners act as extensions of Meta's sales teams across the globe. A thorough selection and approval process ensures that Meta's Authorized Sales Partners meet the highest level of business needs for advertisers and agencies.
Aleph, the holding company of Httpool by Aleph, has been part of the ASP program since 2018, supporting not only the growth of Meta, but also the local advertising ecosystem, and helping agencies, advertisers and SMBs to succeed in digital marketing. Aleph has a record of excellence in digital marketing and is active with local, dedicated teams in numerous regions around the world, including Africa, Central East Europe, and the Asia-Pacific region.  
"As the Authorized Sales Partner for Nepal, Httpool by Aleph enables in-market support and consulting for advertisers" comments Sunny Nagpal, Managing Director at Httpool by Aleph in APAC. He continued "we are proud to provide access to workshops and training across the region, enabling all advertisers in the market to learn new skills, and get the most out of Meta's platforms."
Through Httpool by Aleph's comprehensive understanding of Meta's solutions, the company serves as a direct point of contact across all products, apps, and services, enabling advertisers to make the most of what Meta has to offer. Moreover, with a local presence in Kathmandu, Httpool by Aleph offers support in official and national languages, provides consulting services on both the strategic and optimization aspects of campaigns, and enables billing in the country's domestic currency, Nepalese rupee.
"We are thrilled to bring in Httpool by Aleph as Meta's Authorized Sales Partner in Nepal and believe that with their robust market insights and expertise, we will offer improved support for local businesses and agencies to further unlock their potential growth," said Jordi Fornies, Director of Emerging Markets for APAC at Meta.
Facebook® is a registered trademark of Meta Inc.
Press contacts
Adam Bezeczky, Global PR Manager, Aleph, adam.bezeczky@httpool.at
About Httpool by Aleph
Httpool by Aleph is the largest global partner representing leading digital media platforms, accelerating growth for advertisers and brands across 90+ markets. By providing performance solutions and innovative sets of proprietary technology, Httpool by Aleph helps advertisers to maximize their ROIs and build more relevant audiences. Many leading digital media platforms have chosen Httpool by Aleph, including enterprises such as Meta, Twitter, TikTok, Snapchat, Spotify, Reddit, and Warner Music, proving that Httpool by Aleph delivers effective business results for marketers, agencies, and brands.

Find out more: www.httpool.com

About Aleph
Aleph is a leading global enabler of digital advertising, empowering the ecosystem and unlocking the growth potential for emerging markets. Through partnerships with leading platforms like Twitter, Meta, Snapchat, and nearly 30+ others, Aleph provides solutions and opportunities for businesses to advertise globally without any limitations. With Aleph's network, global advertisers can connect and export businesses from emerging markets to the world's stage. For the last 17 years, Aleph has expanded its reach and accessibility, thus producing exceptional growth opportunities. 
Find out more: www.alephholding.com