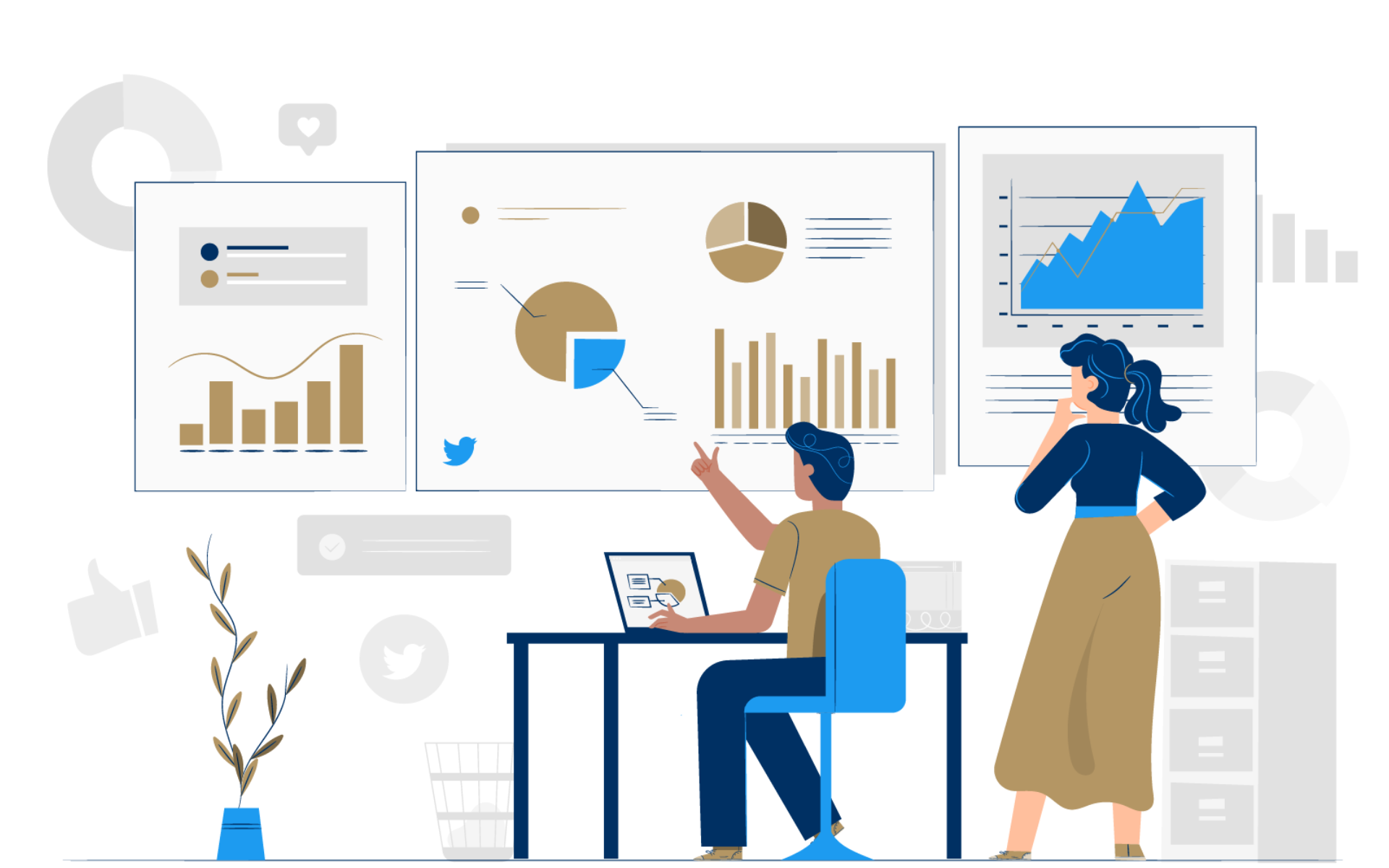 Marketers have witnessed a shift in significance towards social media marketing following the pandemic, with consumers further encouraged to utilise digital channels in their day to day lives. The level of influence held by social media has evolved incrementally and we have seen an increase in the sharing of product reviews, experiences, and usage related tips and tricks, thus, affecting both the buying and shopping patterns of consumers.
Ensuring that your business is keeping on top of these trends is more important than ever. As the public continues to move online to study, shop, and stay connected, developments such as Informative Tweets help businesses engage with savvy customers and first-time purchasers. Most brands have now modified their communication tactics to maintain connectedness to consumers, especially during the Covid-19 pandemic.
Twitter continues to report steady growth in users, with an increase in the volume of conversations and engagements. Many users are now turning to Twitter as a source of information. The Twitter audience is becoming increasingly influential, receptive, and culturally passionate, this switched on and active mentality is what is believed to be driving results. Moreover, Twitter boasts a plethora of full-funnel premium and innovative ad solutions, combined with more precise targeting, and improved measurement capabilities.
Further benefiting from the ability to connect both brands and businesses with their prominent audience, thus, making it a highly unique and effective marketing platform.
Twitter is a powerful business tool. Brands and Marketers are highly recommended to embrace the platform and incorporate Twitter into their strategies, enabling them to reach new potential customers, gain greater brand recognition, and achieve marketing goals.
Prior to investing in any platform certain matters must be considered, this includes defining KPI's and determining expectations.
So, what does 'Twitter campaign success' mean?
The success gained through a Twitter campaign is not necessarily in the form of a sale or new customer acquisition, instead can result in extended reach, increased brand awareness, improved customer engagement, follower growth, or higher app installs. Many marketers are known to apply a tactical approach, with the focus placed on short-term goals or vanity metrics. Whereas Twitter campaigns can be designed to incorporate a strategic approach, enabling brands to aim for long term goals, and future successes, they can also apply an 'always-on' form of the campaign on Twitter.
How to set up a successful campaign on Twitter?
First things first, it is essential to set a clear and measurable goal, ensuring that the key metrics are identified. All goals and metrics should be specific to each platform, it is, therefore, essential to understand precisely what role Twitter should play in your media planning.
Once the above is defined, other matrixes such as audience targeting, bid rates, budgets, and creatives can be set up using best practices. Twitter strongly recommends following its best practices in order to achieve the best possible results from your campaigns.
How to measure Twitter campaign success?
Twitter offers a host of analytical and measurement solutions to quantify the campaigns' results and help define actionable insights.
1. Account Home:
The account home summarises all account activity, highlighting the top Tweets, mentions, and followers for any given month. This feature also provides detailed information on account performance as well as helpful tips on improving account strategy.
2. Tweet and Video Activity Dashboards:
The Tweet activity dashboard (TAD) and video activity dashboards (VAD) display data to help optimise the brand's performance on Twitter. Brands can leverage these insights to improve ongoing strategy for both paid and organic Tweets.
For each Tweet, you can track the number of impressions, engagements, and earned engagement rates, and for every video posted to Twitter you can track the level of retention, view rates, and completion rates. The tracking information provided for both helps to understand which content resonates most with audiences, the brand can then harness this information and disperse similar content. Moreover, the dashboards prove to be a useful place to visit for content planning.
3. Campaign Dashboard:
As for any business, setting clear objectives and tracking results are both crucial aspects for success. The campaign dashboard can be used as a tool to set up all relevant objectives, audience targeting, bids, budgets, and creatives. The results obtained from the dashboard are used to analyse performance and optimise the campaigns. 
4. Conversion Tracking:
Conversion tracking enables users to track conversions that have resulted from the Twitter ad campaigns, this also allows for website links to be included for more effective ROI measurement. By enabling the tracking of users on a brand's website, and the engagement with the brand's ads on Twitter, you can identify the highest performing ad campaigns. Most importantly, these solutions are all free features available to all Twitter ad accounts.
5. Twitter Measurement:
Twitter provides advertisers improved transparency into their campaign performance, using 1st-party solutions and 3rd-party measurement insights. The goal is to empower advertisers with measurement solutions to better understand how campaigns help achieve their broader marketing and business goals. These include access to features such as audience measurement, view-ability, incremental reach, brand lift, mobile app measurement, website attribution, and marketing mix modelling (MMM).
(*The availability of measurement solutions may vary from market to market and might be available to select in ad accounts).
There are ample ways, as outlined above, to quantify the performance of the Twitter campaigns, and it is essential to utilise these insights and consistently analyse data to allow for continued improvements, therefore resulting in the most effective Twitter campaigns for you.