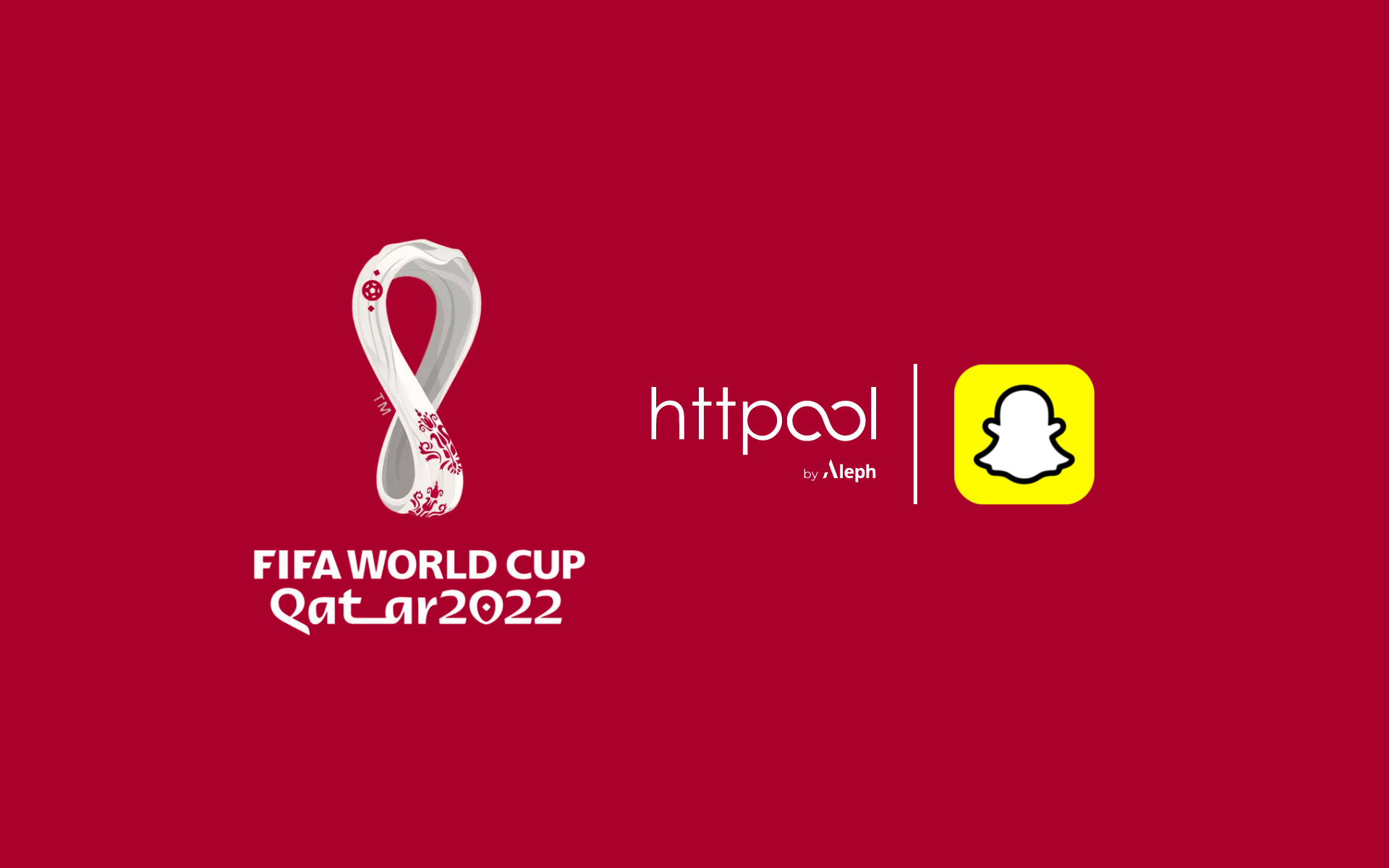 The Snapchat generation is vibrant, open-minded, and is not afraid to voice their opinions. The decision to communicate through images and videos is now more popular than ever before, both of which form the primary sources of information on Snapchat. It's a new world out there, and these methods of connecting audiences create unique commercial opportunities, including Augmented reality (AR) ads and branded filters.
Snapchat has shown indisputable growth over the years, both in the platform's popularity, and its standing as an influential and necessary marketing tool. With over 347 million active users and more than 5 billion snaps sent daily, it is no surprise that Snapchat is a force to be reckoned with in the digital advertising sphere. 
What better time to interact with this buzzing and lively audience than in this year's World Cup! The World Cup 2022 has already kicked off, and with it an array of exceptional advertising possibilities are flourishing, as people from across the globe continue to unite under one common interest. Merging the power of football spirit with the extensive catalog of advertising features available on Snapchat is surely a winning recipe. In order to stand out during this time of fierce competition surrounding The World Cup, incorporating more than one advertising method is essential. So, although Snapchats flag flagship is undoubtedly AR, let's not forget the effects of Snapchat's ads collective, which helps brands to accomplish three advertising stages: awareness, consideration, and conversion. When combining an advertising blend such as this, the performance reaches a higher conversion lift than single ad products and drives purchase intent. 
We understand that sometimes it can be a difficult task to break through a concentrated market and achieve objectives. At Httpool by Aleph we have therefore put together our three top tips for advertising on Snapchat this World Cup! It's not too late to win your trophy.
New Media Story-Telling

First things first, social media marketing in today's world is essential to success, not only does it deliver better campaign outcomes, but it is also far less expensive than buying a commercial spot on television especially during events like The World Cup. Snapchat, with its variety of advertising tools available, is perfect for brands of all sizes, meaning all brands can benefit from digital marketing features. 
I am sure we all already appreciate the benefits of story-telling in assembling a brand image. We often see that some brands use blogs or social media posts to inform audiences of their story or message, which is great if marketers have the time for long-term organic growth, but events such as The World Cup come up fast and end quickly – it lasts only 28 days! Therefore, advertisers need a strategy that achieves their business objectives quickly and efficiently. Snapchat has a solution to this obstacle. The platform's public profiles promote updated content with captivating visual imagery and hypnotic videography. Use this method to give consumers branded story-telling, like never seen before. With the additional AR lenses, you can attain high engagement rates, thanks to the interactive environment created with the viewer. 
Snapchat groups its advertising catalog into two sections: ads in camera (lenses and filters) and ads in content (story ads, public profiles, and snap ads). A combination of these formats lifts a brand's image and reachability. Not to mention that snapchatters consume an immense amount of content from the discovery page, with active users spending around 30+ minutes on the platform per day. 
Unlock opportunities for new media story-telling with Snapchat's impeccable advertising features to build the essential discoverability of your brand. 
Immersive AR Features
AR absorbs fans in their favorite content and delivers a memorable experience. Over 250 million Snapchatters use such lenses and filters daily. Since the start of the World Cup, Snapchat's audience has already been plunged into a world of football related features. People want to engage in immersive content that helps them interact closer with the sporting event. That is why investing resources to reach consumers via the AR lens is a compelling effort. The first step of digital marketing campaigns is to find what your audience is interested in or which activities they prefer. In the case of Snapchatters, AR filters are at the top of the trends list. 
The enveloping aspect of AR allows brands to connect audiences across the globe with personalized filters, and it shouldn't come as a surprise that owing to these attributes, AR is growing tremendously in popularity.  In fact, over 75% of Snapchatters already reportedly use AR for shopping, thus with the increased traffic of football fans on the platform, now is the perfect time for marketers to drive buying interest. 
To attain impressive engagement results for your World Cup Snapchat campaign we recommend publishing on key match dates, especially as we progress through the knockout stages, and combine AR filters with the first commercial or first lens. Before the match, the fans' interest increases significantly and continues throughout the game. Marketers should take a step further and keep the engagement on the platform with lenses and story filters during the breaks. For example, with AR filters, a brand can create a virtual stadium replica or position its label in a World Cup theme, thus attracting fans to its content. Securing a placement for your lens as the primary choice in users' effects list will improve the impression rates because it's the first option they see. 
One of the biggest challenges in promoting brands throughout the World Cup is adequate positioning to reach audiences. Most companies will put in their efforts, and the market will become more crowded than it usually is. However, with AR joined by the first lens, you can improve the brand's discoverability on the platform, and place yourself in a favorable position. 
Use Snap Ads to Build Brand Equity
The blend of different advertising formats and methods allows brands to achieve better results, and Snapchat ads make the perfect assistant in establishing your perceived commercial value. The World Cup 'fever' undisputedly increases audiences' interest in social media content, and it isn't an assumption but rather a fact that people gladly engage in fun activities correlated to the football theme. Thus, ensuring your brand leaves a memorable impact on consumers, connecting with them in this shared experience, allows you to get closer to the public in a subtle manner, without being too salesy. 
Snapchat balances the advantages of interactive videography and visual imagery. Story ads displayed in between Snapchatters' content help brands to construct essential recognition of their products. Knowing about a brand's offering and buying them are two distinct objectives. This is why aligning story ads with product catalog ads completes the awareness stage and increases consumers' purchase intent. Product ads have a four-section design to showcase specific merchandise, which is interactive with call-to-action buttons. That advertisement can lead to considering products in AR lenses, and with one swipe, consumers can convert to your website. With this method, you check all the stages of advertising progression – from discovery to consideration and final conversion. 
All in all, we know that effective advertising is a perplexing task, often requiring countless hours of market research, and only a small percentage increase. However, for marketers, The World Cup is your great white whale, you just need the right harpoon to snag this buzzing opportunity. Happening as you read is a celebration that captivates billions! If you haven't already, it's time for you to get a piece of this pie!