Back
Httpool by Aleph to support Microsoft Advertising as its representative across Central & Eastern Europe
22.8.2023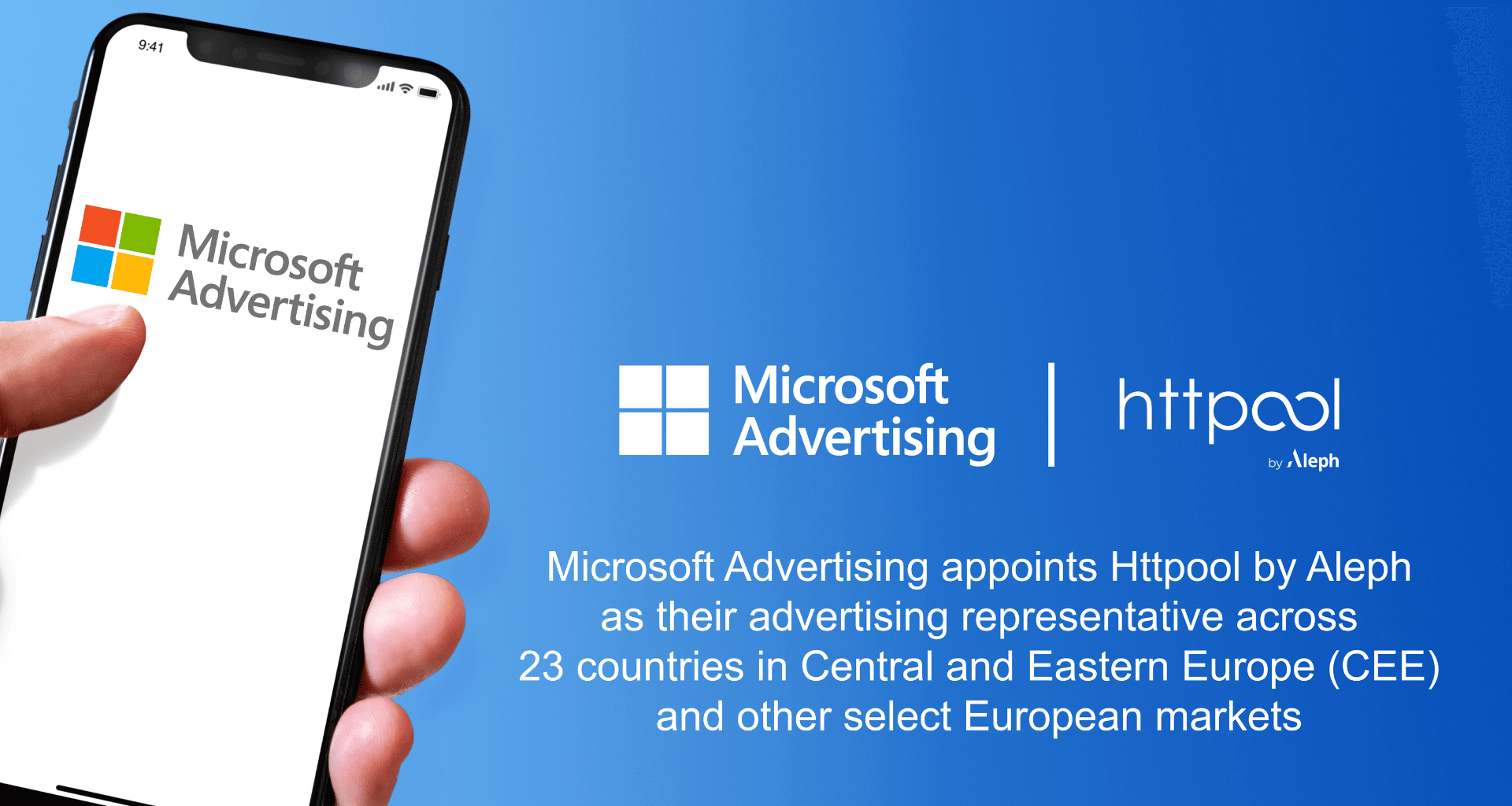 Dubai, August 22, 2023, Httpool by Aleph, an ecosystem of global digital experts which connects thousands of advertisers with billions of consumers, is pleased to announce it has been selected as Microsoft's Advertising representative across 23 countries in Central and Eastern Europe (CEE) and other select European markets* to develop Microsoft Advertising campaigns, across its search, audience and shopping products.
Through this agreement, effective 1st of September 2023, advertisers and agencies in the region will be able to leverage Httpool by Aleph's leading offer, which combines advertising solutions with the insights of digital experts in-region, to develop Microsoft Advertising campaigns. This collaboration allows Httpool by Aleph to provide consumers access across Microsoft's search engine Bing, Microsoft Advertising's Search and Audience Networks, and now Microsoft Edge, creating differentiated, high value experiences for consumers and advertisers. Microsoft is at the forefront of innovation, infusing generative AI technology into its advertising platform to unlock value for advertisers.
This agreement builds on an existing and successful relationship in Latin America and the Caribbean, excluding Brazil, which began earlier this year. To create growth opportunities for advertisers and agencies around the globe, Httpool by Aleph has also invested in its Microsoft-dedicated sales and operational teams providing clients with custom insights into media planning, audience strategy and effective campaign optimization.
Httpool by Aleph will leverage its extensive industry and platform experience In CEE and the rest of Europe to ensure advertisers and agencies create and optimise impactful, localised digital campaigns. It will also facilitate billing in the local markets it operates in through Aleph's cross border credit and payments solution, streamlining operations for advertisers and agencies. 
In the medium-term, Httpool by Aleph intends to grow its Microsoft-dedicated teams in CEE, and potentially create new opportunities in the region to support Httpool by Aleph's overall growth strategy. Its collaboration with Microsoft will also widen Httpool by Aleph's portfolio in Europe, creating long-term growth opportunities for the company, while delivering meaningful results for its advertisers and agencies on Microsoft's platforms. 

"Microsoft Advertising is delighted to engage in this expansive sales and marketing collaboration with Httpool by Aleph in Central and Eastern Europe and other select European markets. Httpool by Aleph brings exceptional local expertise and relationship management that will allow advertisers and agencies to fully engage with the Microsoft Advertising Platform, reaching our unique, growing audience of over a billion individuals across Windows, Bing, Bing Chat, Xbox, Outlook, Microsoft Start, and our third-party publisher network." stated Mark Richardson, Regional Vice President for Europe, Middle East, and Africa, and Latin America, at Microsoft Advertising.
"We are thrilled to expand our relationship with Microsoft Advertising and enable our clients across Central and Eastern Europe and other select European markets to create impactful campaigns across Microsoft's valuable product portfolio - including on its new innovations in generative AI. This will create new opportunities for our clients in the region to deepen their engagement with consumers and drive sustainable growth." said Rabin Yaghoubi, Chief Corporate Development Officer at Aleph, the parent company of Httpool By Aleph.
Discover what's possible: Microsoft Advertising connects you with more than a billion people at the right moments across work and life. With over 13 billion monthly searches, Microsoft Advertising's strength in Windows and PC includes almost 700 million monthly PC searchers worldwide across  187 markets. In Europe, there are approximately 3.1 billion searches per month, with 170 million PC users searching across 45 markets.

If you have any questions and would like to reach out to Httpool by Aleph directly, please use this email address: microsoft-global@httpool.com 
Notes to Editors
* = Albania, Austria, Bosnia and Herzegovina, Bulgaria, Croatia, Cyprus, Czech Republic,  Estonia, Greece, Hungary, Iceland, Latvia, Lithuania, Luxembourg, Macedonia, Malta, Montenegro, Poland, Portugal, Romania, Serbia, Slovakia, Slovenia.
Httpool by Aleph enquiries: Adam Bezeczky, Adam@alephholding.com
Aleph Group enquiries via Hudson Sandler LLP: Andrew Leach, Andrew Richards, Adam Joste-Smith,
aleph@hudsonsandler.com, (+44) 20 7796 4133