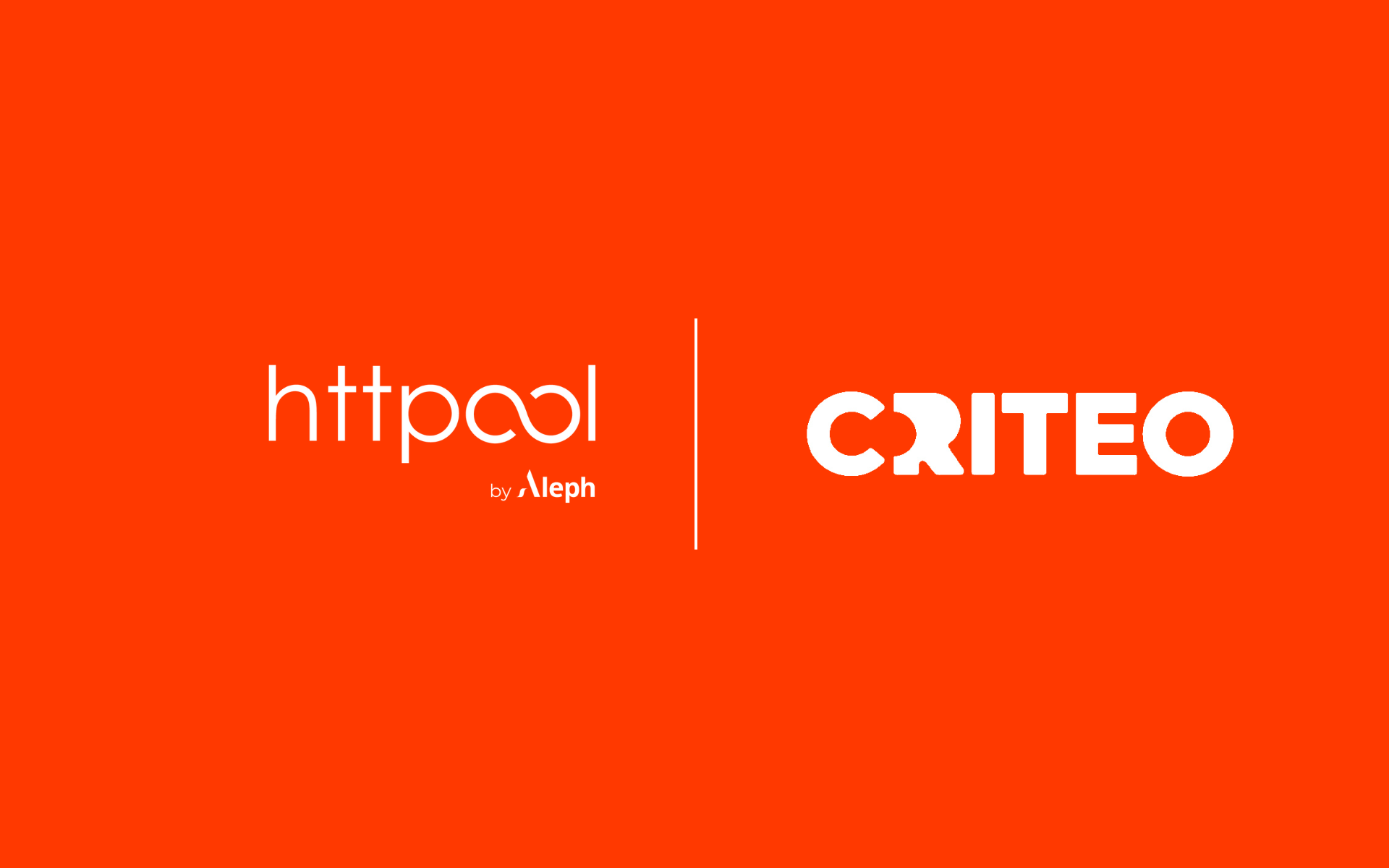 Bucharest, Dec 13 2022 – Httpool by Aleph and Criteo (NASDAQ: CRTO), a global technology company that provides one of the world's leading Commerce Media Platforms, are joining forces  to accelerate growth in Romania.
Httpool by Aleph has a record of excellence in digital marketing and is active with local, dedicated teams in numerous regions around the world, including Central East Europe and the Asia-Pacific region. Httpool by Aleph has been chosen as preferred partner in Romania to offer Criteo's applications to existing Criteo clients as well as new SMB and Mid-Market advertisers and agencies not currently working with Criteo.
Julian Timmerman, Director of Global Sales Channel Partnerships at Criteo, said: "We are thrilled to partner with Httpool by Aleph in Romania. Thanks to Httpool by Aleph's deep understanding of Criteo as well as their strong footprint in the market, this partnership will help to accelerate the adoption of our solutions in the region that are designed to generate relevant business outcomes for advertisers and media owners alike."
Criteo's Commerce Media Platform is designed to provide marketers and media owners direct access to commerce audiences across the open internet. By connecting marketer and media owner first-party data across its vast network, Criteo powers seamless audience-first advertising solutions throughout the supply chain. 
"We are honored to be named Criteo's partner in Romania. Our comprehensive understanding of Criteo's solutions, Httpool by Aleph, serves as a direct point of contact across all products and services, enabling advertisers to make the most of what Criteo has to offer. We are eager to begin our partnership journey and be trusted advisors for advertisers looking to unlock their growth potential on Criteo." said Catalina Balasoiu, Country Manager Httpool by Aleph Romania.
The Criteo platform creates an edge for customers' advertising campaigns, given the platform's technological strength which is based on the world's largest set of first-party commerce data. Httpool by Aleph is fully dedicated to this new exciting partnership. Httpool by Aleph offers support in Romanian, provides consulting services on both the strategic and optimization aspects of campaigns and enables billing in the country's domestic currency, Romanian leu.
About Criteo
Criteo (NASDAQ: CRTO) is the global commerce media company that enables marketers and media owners to drive better commerce outcomes. Its industry leading Commerce Media Platform connects 22,000 marketers and thousands of media owners to deliver richer consumer experiences from product discovery to purchase. By powering trusted and impactful advertising, Criteo supports an open internet that encourages discovery, innovation, and choice. For more information, please visit www.criteo.com.
About Httpool by Aleph 
Httpool is an Aleph Group company, representing leading digital media platforms in the Balkans and other over 30 markets in Europe and Asia. 
A unique combination of access to the largest digital players, proprietary technology and expert know-how allows Httpool by Aleph to support businesses and brands in maximizing their advertising efforts and drive business.
Find out more: www.httpool.com